Some say it was originally "Fruit Loops" and then changed to "Froot Loops," while others believe it went from "Froot Loops" to "Fruit Loops." Many people claim this change happened during their childhood, while others say they just noticed it in recent months. Whatever you believe, if you google the cereal or find a box in real life, you'll see "Froot Loops" printed across the front. Unless, of course, you're reading this from some other dimension.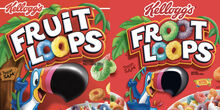 Ad blocker interference detected!
Wikia is a free-to-use site that makes money from advertising. We have a modified experience for viewers using ad blockers

Wikia is not accessible if you've made further modifications. Remove the custom ad blocker rule(s) and the page will load as expected.